Last updated on May 11th, 2021 at 06:23 am
Nobody wants to get their drone succumb to a terrible crash. One needs to be adept at flying a drone and undergo rigorous training to ensure that their expensive drone remains safe from harm.
There is a proliferation of UAV training programs and platforms that can assist one to get better at flying a drone.
These include web and app drone simulators that offer a realistic drone experience.
However, Epson has joined hands with DJI and Y Media Labs to conjure the most realistic and immersive drone flight simulator that has ever been developed till date.
Epson are headquartered in Japan and are known for their top of the line printers. Y Media Labs is a technology and design agency.
Partnering DJI, the developers have used Augmented Realty to come up with an immersive digital drone training experience.
The simulator will be available to the consumers towards the end of the year and will be compatible with Epson Moverio BT-300 smart glasses.
The App
The Epson Moverio BT-300 smart glasses were launched in 2016 but the drone training simulator has been in the development stage over the past several years.
The simulator will only work with the Moverio glasses as the app forges a 3D image or projection of the drone using the goggles. This video will help you understand better.
This app lets a pilot fly any DJI drone with the aid of a real life DJI flight controller while the virtual drone depicts actual physics and dynamics similar to the real world. So a pilot can fly a DJI Mavic Pro or Spark in much of the same way as one would fly them in the real world.
The physical dynamics of a drone and its surrounding environment are crucial for a newbie who is learning how to fly a drone. The best thing in this scenario is that one does not have to be intimidated by the risk of crashing a drone or even causing any injury.
Rigorous practice will help one get ready to fly a real drone. Coupled with real time drone training, the pilot will be good stead to fly a drone like an expert.
The app will include a Fly mode along with a couple of games for consumers who are looking for some intense practice sessions. The games can also be played for the sake of fun while the multiplayer feature further adds value to this prolific simulator.
Smart AR Epson Moverio BT-300 Smart Glasses
As discussed above, the simulator is only compatible with the AR goggles provided by Epson which have specifically been developed for FPV flying.
Epson has partnered with DJI for more than a year to create seamless FPV flying experiences for their drones. As a matter of fact, the Moverio BT-300 have been promoted as accessories for some of the DJI machines.
So this simulator is essentially an attempt to aid drone pilots get the most out of this unique pair of AR glasses.
In contrast to a conventional FPV headset, AR smart glasses allow a pilot maintain a direct line of sight to the drone. Countries such as the US require a drone pilot to maintain a direct line of sight to the machine they are flying when it comes to outdoor flights.
With these AR glasses, you can adhere to the rules formulated by FAA. The goggles portray a real time video streaming of the drone along with flight statistics without obstructing the pilot's line of sight.
The glasses can be configured to suit a number of settings and are compatible even with the DJI Go app for a flawless FPV flight experience. They are bundled together with a controller that works with the DJI drone remote controller.
The Moverio BT-300 can be had from Epson's official website or Amazon for about $700.
The app will be available by the end of the year in the Moverio app store. Its price has not been announced yet.
In-store experience of the app can be had in DJI's stores and local retailers.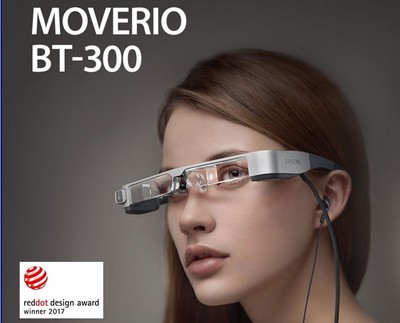 Ebay.com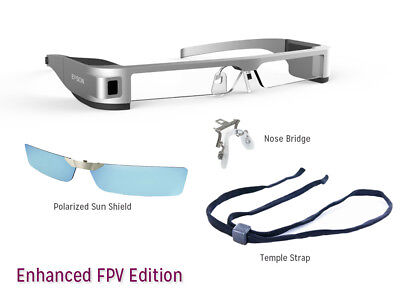 Ebay.com